It is important for businesses and home owners to take steps to ensure they are properly insured. 
Unfortunately, 1 in 10 Australian small businesses with insurance don't have enough cover to protect themselves against business disruption, legal liabilities or loss or damage to their assets*
Under-insurance is when the value you have insured your property for is not enough to cover the value of items you are insuring. The problem happens because most people know what they paid for their buildings, but it is a different value to how much it costs to rebuild it. All too often, people find themselves unintentionally underinsured when it comes time to claim, which can be too late. 
As an insurance broker we have access to sum-insured calculators that include many questions regarding your home and contents to help determine the right level of insurance cover.
Ways to minimise your risk of under-insurance:
Speak to your broker regarding the business calculator.
Use our online home and contents calculators.
Understand the difference between defined events and accidental damage. 
Understand the insurance product you have chosen, and if you have any queries or questions that is what we are here for! 
Video: Are you Underinsured
The difference insurance can make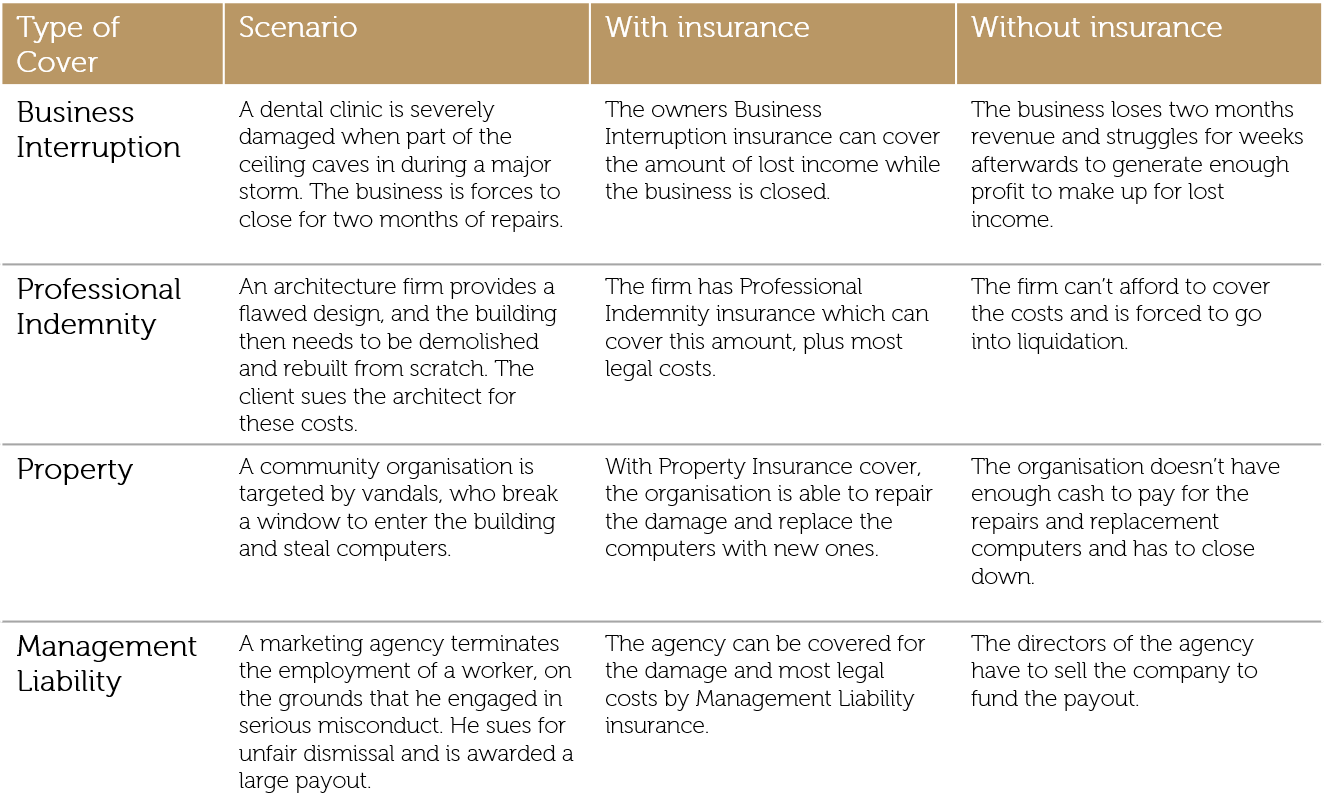 How we can help
As a broker we do the work of reviewing your insurance, adapting your cover as your business changes, and giving you peace of mind that your business is properly insured. 
We can tailor a competitively priced policy to protect against the major risks you and your business may face. 
Business Interruption 
Under a business interruption policy, a business that may suffer an insurable event can claim for loss of income. It can cover the loss of any sales you would have made while your business is out of action. 
Most of the business that were affected by the recent bushfires were small, family-run who rely on the cash-flow of their business to support their livelihoods.
It is a timely warning to all policy holders to check their business insurance and assess the level of cover they have under their business interruption policy. 
Accidental vs Defined Events
Accidental damage and defined events policies both cover you building and contents for the events listed in the Product Disclosure Statement, however accidental damage policy is superior in its coverage and provides accidental cover. 
Defined Events will limit you to only being able to make a claim for loss or damage caused by a particular event;
Fire and explosion
Lightning
Earthquake
Theft or attempted theft of contents from the home 
Accidental Damage will cover for the same events but it goes above and beyond by covering you if any damage to your home and building is caused by an accident:
If you accidentally drop or break a personal item
If you lose or misplace a personal item 
If personal items are stolen away from your home
Related documents
Are you Underinsured? Click here to read further
Bushfires and business interruption explained in further detail, click here.
Important note – this information is general advice only and has been prepared without taking in account your objectives, financial situation or needs. Please discuss your personal circumstances in full detail with your broker.
*Insurance Council of Australia, Non Insurance in the small to medium sized enterprise sector, July 2015.